Hier is alles L-Acoustics. Vraag naar de beste prijs altijd !
Uw partner L-Acoustics , scherpe prijzen en snelle leveringen.
Over L-Acoustics
Vernieuwing en wetenschappelijke methode zijn vanaf het begin de principes van L-Acoustics geweest. Oorspronkelijk geworteld in de natuurkunde en fundamentele akoestiek, is het bedrijf vooral bekend als de uitvinder van moderne line source arrays dankzij het gepubliceerde onderzoek naar Wavefront Sculpture Technology en het legendarische V-DOSC-systeem.
In de loop van de tijd heeft L-Acoustics haar onderzoeksactiviteiten ingezet op het gebied van bouwtechniek, vermogenselektronica, signaalverwerking en digitale netwerken. L-Acoustics ontwikkelt zijn eigen interne simulatie- en modelleertools en voert praktische experimenten uit om zijn modellen te observeren en te valideren.
L-Acoustics heeft haar onderzoekswerk regelmatig gepubliceerd en gepresenteerd aan de wetenschappelijke gemeenschap. Als een technisch gedreven team is L-Acoustics een zeer gerespecteerde organisatie in de audioproductie-industrie.
Hieronder handige downloads van alle specs, tekeningen etc van l-acoustics
https://www.l-acoustics.com/en/support/download-center/
Speakerkoning is uw L-Acoustics partner , altijd en overal .
Bel of mail
Tel: 0614011675 of info@speakerkoning.nl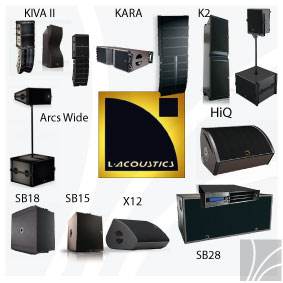 Toon 15 Producten per pagina
Niets Gevonden
Sorry, de post waarnaar u opzoek bent is niet beschikbaar. Misschien wilt u gebruik maken van de zoekfunctie?
Voor de beste zoekresultaten, houd het volgende in gedachte:
Dubbel-check altijd uw spelling.
Probeer soortgelijke zoekwoorden, bijvoorbeeld: tablet in plaats van laptop.
Probeer meer dan een zoekwoord te gebruiken.